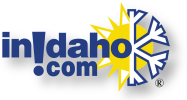 McCall Area Hiking: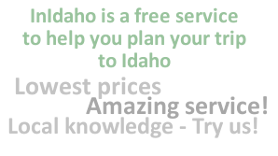 McCall Area Hiking reviews
5.00
out of
25
InIdaho.com reviews
Great rates! No booking fees!
1-800-844-3246
About/Main
Deals & Packages
Prices & Products
Photos
Reviews
I have a quick question about McCall Area Hiking...
The McCall area has over 4.5 million acres of forest surrounding it. Here is just a little list of hikes around McCall.
Location information:
---
General Location:
We do not have any current pre-built packages for McCall Area Hiking .
· Call us at
800-844-3246
for the lowest guaranteed rates
· We can
customize a package for you!
Let us know what you would like and we'll create it for you.
*pp=Per person. Rates do not include taxes or any applicable resort fees, cleaning fees or deposits unless mentioned. Subject to availability and subject to change without notice. Valid for new reservations only. Your rate may vary depending on the number of people travelling. Most packages can be customized. Specific Unit valid dates sometimes vary from the listed date. Starting prices are based on overall promotion low price and may not be available in your city.
You'll never pay more using our FREE service for the state of Idaho! Plus enjoy great customer service, rates and packages. Thanks for shopping locally!
Big Hazard Lake

| |
Photos
|
Reviews
Drive approximately 27 miles up the Goose Lake/Hazard Lake Road to reach Big Hazard Lake trailhead. This is the largest of the three Hazard Lakes. It is about a 1/2-mile walk through timber and downed timber to reach the lake. The walk is flat and suitable for most people. The lake itself comes right up to the edge of the forest and there is very little "beach" area. But it is a beautiful, serene lake and it is not uncommon to see people carrying float tubes, canoes or inflatable rafts into the lake to take advantage of the good fishing and quiet beauty.
---
Boulder Lake

| |
Photos
|
Reviews
Boulder Lake is a popular destination for fishermen. To get to the trail, park your car below Boulder Meadows Reservoir; the trail goes along the north side of Boulder Meadows Reservoir (elevation 6269'). The trail is two miles long with an elevation gain of about 700 feet. The trail climbs slowly until just before the lake where you follow a few steep switchbacks amongst the rocks. Boulder (elevation 6973') is a good fishing lake. This trailhead is access for several other good hiking areas for those of you who want a long hike or plan on staying out for several days. Anderson, Maloney, Summit, Rapid, Fogg, and the Kennally Lakes are all accessible from this trail.
---
Box Lake

| |
Photos
|
Reviews
This trailhead is eleven miles up Lick Creek Road from McCall. The trail is called Black Lee Trail after the creek it ascends. The starting elevation is 5680' with an elevation gain of 1863' and a 343' drop from a ridge to the lake. This trail is 3.5 miles long and suggested as an overnight hike for many people, especially if you plan on fishing and swimming. The trail switchbacks 800 feet in the first mile and continues to be steep for another mile. The trail makes several crossings of a stream as it passes through meadows. After passing through a short meadow the trail again climbs to arrive at the ridge above the lake. Because of the steepness and the loose rock in the trail this is not recommended for young children. It is one of the bigger lakes in the area and was the site of a Chuck Yeager TV commercial.
---
Duck Lake

| |
Photos
|
Reviews
This is a short hike of approximately two miles round trip. It has little elevation gain and makes an ideal hike for most ages and abilities. To reach the trailhead, drive out Lick Creek Road past Slick Rock and up to the summit. Approximately one and one-half miles beyond the summit is the trailhead sign and a small parking area. The trail is well marked and easy to follow. You will need to make two stream crossings either hopping from log to rock or by wading. Duck Lake sits in a wooded area with a meadow at the upper end and several campsites at the lower end. Other longer hiking trails lead off from here. Trail 085 goes north from the lake and meets up with the Twenty-Mile Trail, which then leads back to Warren Wagon Road. This is another mountain bike trip that is very popular. The trail starts at an elevation of 6400', climbs to 7000', and ends up at about 6000'. Duck Lake is at an elevation of 6840'.
---
East Fork Lake Fork Creek

| |
Photos
|
Reviews
This is the alternative trail to Maki Lake mentioned on page 28. There is another trailhead for the East Fork Lake Fork trail. Instead of crossing Lake Fork Creek in the campground you can drive to the first-bridge on the main road about one mile past Lake Fork campground. You will see on the north side of the bridge a large dispersed camping area. You may park there and follow the trail that parallels Lake Fork Creek. This trail is one mile to the trailhead across from the campground. The trail is a two-mile-roundtrip hike and a very pleasant one. If you want to stretch your legs but are not looking for an arduous trip, this is it. It is a rolling stretch of trail with little if any elevation gain. There are huckleberries along the trail, interesting rocks to climb on and a few hidden fishing spots. This trail is a good place to get the kids started in hiking. The rest of the trail except the last mile or two before Maki Lake stays mainly at the starting elevation of 5700'. It is used for mountain biking and except for a couple of places where you may have to carry your bike through the rocks, it is a good bike trail. This is also a very popular horse-riding trail. People may use the unloading ramp and hitching rails at the Lake Fork Guard Station. A short ride will take you to the trailhead beside he campground. It is necessary to ford the stream. There is limited parking in this area.
---
Hum Lake

| |
Photos
|
Reviews
The new Hum Lake trailhead takes off from Duck Lake. Both Duck Lake and Hum Lake are at approximately 6800' elevation but to get to Hum Lake it is necessary to climb to almost 7800', cross a saddle and drop down again to 6800'. This nearly 1 000' elevation gain (and loss) in 1.5 miles means a steep climb but you are rewarded with great views of both takes that are usually seen only by mountain goats and other hardy climbers.
---
Josephine Lake

| |
Photos
|
Reviews
Take the Warren Wagon Road past Upper Payette Lake and turn left at the road marked Josephine Lake. The road is very rough three miles to the trailhead but is passable with an ordinary passenger car. The trail is a steep one-half-mile hike to a small 13-acre lake tucked into a granite cirque. The lake elevation is 7400' with a 120' elevation gain. This is a favorite fly-fishing spot.
---
Kennally Creek Trail

| |
Photos
|
Reviews
To reach the trailhead at Kennally Creek, campground, turn east off Highway 55 onto the graveled and dirt Paddy Flat Road. Drive fourteen miles to the campground. The beginning of this trail borders Kennally Creek as it froths over water-beaten boulders. In slightly less than a mile, the trail crosses the North Fork of Kennally Creek on a wooden bridge. At 2.5 miles, the trail crosses a creek. This is the Kennally Lakes or Cougar Lakes Trail and is a fifteen-to-eighteen mile steep hike. This is a popular horse trail as is the Needles trail that also takes off from the main Kennally Creek trail. There is a horse-unloading ramp just outside the campground.
---
Loon Lake

| |
Photos
|
Reviews
Travel north on Warren Wagon Road to the Chinook campground a mile beyond where the road crosses the Secesh River. Enjoy a 5.25mile trek to beautiful Loon Lake. This is a 10.5-mile-round-trip hike with only a 200' elevation gain. Many people do this as a long day hike. The trail can be done as a loop, which means you have to ford the Secesh River at the campground. This is best done on the return so you won't be hiking in wet boots or trying to cross cold water barefoot. It is also recommended as an overnight trip leaving plenty of time for fishing and swimming. A pleasant shorter trip is the 3.5-mile walk to the suspension bridge that crosses the Secesh River. This trail is also a popular mountain bike trail. Starting elevation is 5676' and the lake elevation is 5800'. Outside the campground there is a horse-use area. This area includes an unloading ramp, hitching rails, plenty of room to park horse trailers, and a toilet.
---
Louie Lake

| |
Photos
|
Reviews
To reach the trailhead turn east off Highway 55 at Elo/Farm-to Market Road. Stay on this road until you see a sign for Boulder Lake and turn east again. The Louie Lake trailhead is about four miles up the road just before the Boulder Meadows Reservoir. Walk through the trees to Boulder Creek that is crossed on logs. The trail then climbs 300 feet through huckleberry bushes to intersect with the Louie Lake jeep trail at .5 miles. Louie Lake is one mile further up the trail. Although the trail is a pretty steady uphill walk, it is an easily followed trail and does afford some good views of Long Valley far below that makes for some excellent picturing-taking. Elevation gain is 735'. Louie is a beautiful deep-blue lake with the gray cliffs of Jughandle Mountain overlooking it. The lake contains two small granite islands. The truly ambitious can take off around the southeastern part of the lake to climb Jughandle Mountain itself. Louie Lake has an elevation of 7004' and Jughandle at its top is 8310'. To hike on to Jughandle expert skills are needed.
---
Maki Lake

| |
Photos
|
Reviews
There is one trail access to Maki Lake. There is an apparent trail over the summit of the ridges between Snowslide and Maki but the trail peters out and topo map, compass, and route-finding skills are needed to find the lake. The other route to Maki is along the East Fork Lake Fork Trail. To reach the trailhead you ford the river at the north end of Lake Fork campground. The trail is ten miles to the Maki Lake junction. This is an easily hiked trail despite the distance. There is almost no elevation gain and in most places it is a scenic, easy-to walk-on trail. At ten miles there is a sign pointing west to Maki Lake. The last mile is a steep I 000' climb into the take area. Maki Lake is at an elevation of 7293'.
---
Powerline Trail (Goose Creek Falls)

| |
Photos
|
Reviews
Travel west on Highway 55 until you come to the Brundage Mountain turnoff. The Powerline Trail sign is three miles up this road. There is plenty of parking at the trailhead. The trail goes about 100 yards and then crosses an open area that has recently been logged. Goose Creek canyon and the trail are over a ridge to the west. The trails go steadily downhill until it reaches Goose Creek. A bridge takes you across Goose Creek and from there you turn south (left) and follow the creek downstream for about 300 yards. There is no trail to the falls but the noise of the water from the falls will guide you to its location. Unlike most trails with elevation, Powerline Trail starts at 5760' and drops to 5080'.
---
Scribner Lake

| |
Photos
|
Reviews
As you follow the Hazard Lake Road around to where it becomes Road #308, you climb to a point where you can get a grand view looking over Big Hazard Lake and the mountains to the west. It may seem like a long drive for the short hike into Scribner Lake but Scribner is a good little fishing lake and worth the trip. The hike climbs through boulders and timber for 1/2 mile.
---
Secesh to Loon Lake

| |
Photos
|
Reviews
This trailhead is just across the road from Ponderosa campground. To get there you drive over Lick Creek Summit and through the Lick Creek canyon. With its rock fall, waterfalls, and hanging valleys this canyon is one of the most picturesque drives on the Forest. The trailhead begins by the Secesh Bridge north of Ponderosa Campground. The trail ends at the Chinook Campground off Warren Wagon Road. The total distance from campground to campground is approximately fifteen miles. The elevation gain for the full fifteen miles is only 1500 feet. Because of the lack of elevation gain this is a pleasant hike for most abilities and you can hike any distance you wish. The trail crosses several small streams as it meanders along the bends and curves of the Secesh River, sometimes right along the river and other times 50 feet above it. The trail can be wide enough for two people to walk side by side and in other places it hugs the cliffs barely more than a goat's width. Across the river on the West Side of the bridge is the Secesh horse camp. There is a hitching rail and room to park horse trailers.
---
Snowslide Lake

| |
Photos
|
Reviews
Follow Lick Creek Road past Lake Fork campground. As you drive along this area, observe the 800' dome of granite known as Slick Rock. This is a favorite scramble for rock climbers. To get onto the Snowslide trail it is necessary to ford Lake Fork so early spring is not recommended due to high water. The trail to Snowslide Lake is rugged, steep and rocky. The trail passes through brush, aspen groves and both dry and wet stream crossings. Great granite walls surround part of the lake. Looking towards Lick Creek Road, you get the feeling that the lake is perched on the edge of the earth. There are several nice camping spots around the lake. Starting elevation at the trailhead is 5910' with the lake at 7175'. If you hike over the pass to Maki Lake, the pass elevation is 7890'.
---
Twenty Mile Trail

| |
Photos
|
Reviews
The trailhead is 18 miles north of McCall on Warren Wagon Road. There is a wooden trailhead sign on the road. A short dirt road to the right leads to the new trailhead. The new trailhead has a horse unloading ramp, hitching rails and a toilet by the large parking area. There is plenty of room to park horse trailers. At the beginning of the trail is a bulletin board with trail information. This trail is an easy hike for approximately the first three miles. After that it begins to climb steeply for another three miles into the high lakes area. Trailhead elevation is 5600' and the lakes are at 7800'. This is a good trail on which to see wildlife-especially deer. The fishing is excellent in the four Twenty-Mile Lakes and is a recommended overnight trip for many hikers.
---
Twin Lakes

| |
Photos
|
Reviews
To reach the trailhead take Highway 55 west of town and turn on the Brundage Mountain Road Take the Goose Lake Hazard Lake turnoff at the Brundage "Y." Stay on the graveled road going past the Goose Lake turnoff. You will see a road to the left. Turn onto that road and drive a short distance to a meadow. You can see a Cattle Association cabin in the meadow. The trailhead sign is by a stream. After walking up the trai4 a short distance you will have to cross the stream. The trail is a one-mile walk up to the Twin Lakes. The trail climbs steadily but is not steep. There is an elevation gain of about 400'. The lake is subject to drawdown because of the dam, so you will early in the summer. The fishing is good and it is a nice place to take a picnic lunch and let the kids scramble around the shores. It is a two-mile round trip. Twin Lakes Trail starts at the elevation of 6721' and the Twin Lakes are 7164'.
---
Upper Hazard Lake

| |
Photos
|
Reviews
There are three Hazard Lakes: Hazard, Upper Hazard and Big Hazard. The Forest Service campground is at Hazard Lake and the trailhead for Upper Hazard Lake is there. The trail to Upper Hazard Lake is two miles long and you gain about 348' in elevation. Starting elevation is 7080' and ending elevation is 7428'. This is a nice hike that passes through several meadows before reaching the lake.
---
Victor Creek Trail

| |
Photos
|
Reviews
The trailhead for Victor Creek is three miles past the Twenty-Mile trailhead. There is limited parking right at the trailhead. Although this trail is 12.5 miles long, a short hike of slightly over a mile through heavy timber brings the hiker to a large meadow that offers an impressive view of the mountains on the opposite side of the Payette River. The trail is used as access to several lakes including Trail Lake and Victor Lake.
---

Amenities
:
No amenities are listed. Please call.

Photos
:
No images to display

McCall Area Hiking Reviews by InIdaho.com verified guests
Please note: Guest reviews may mention certain amenities that may no longer be offered with McCall Area Hiking. Please check the amenities prior to booking to confirm.
---
By Jeff and Rosemary from Twin Falls, Idaho on 9/20/2017

No comments
Good Value:

| Met Expectations:

| Do again?

---
By from , on 9/9/2016

Product reviewed:
Boulder Lake
"Nice hike for (some) families. Our kids were 8 and 10 when we first went and had a good time. Great payoff at the end - the lake is beautiful!"
Good Value:

| Met Expectations:

| Do again?

---
By Dena from Middleton, ID on 7/27/2016

Product reviewed:
Josephine Lake
"We had a great time hiking to Josephine Lake even if we did get a little rained on."
Good Value:

| Met Expectations:

| Do again?

---
By Wendy from Boise, ID on 6/18/2016

Product reviewed:
Boulder Lake
"Great day hike absolutely worth the trip. Could have used better instructions on how to get to starting point. "
Good Value:

| Met Expectations:

| Do again?

---
By Sarah from lewiston, id on 10/14/2015

No comments
Good Value:

| Met Expectations:

| Do again?

---
More Reviews
Please note: Reviews are written by travellers who have experienced this product first hand. Reviews are © InIdaho.com
For local advice and reservations call our free service at

1-800-844-3246