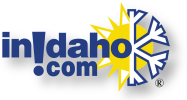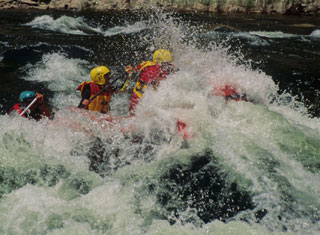 Highlights for ROW Adventures:
Salmon, Snake, Clark Fork
Bruneau, Jarbridge and
Clearwater river trips.
Class II - IV rapids
1/2 & Full day trips
3-6 day trips w/meals
Multiple trip locations
About/Main
Deals & Packages
Prices & Products
Photos
I have a quick question about ROW Adventures...
When looking for an Idaho rafting trip why chose another outfitter other than the one who whitewater rafts more Idaho rivers than anyone else on earth? Since 1979, ROW Adventures has established the high water-mark in Idaho white water rafting. For over three decades ROW has combined their experience and expertise and have developed Idaho rafting trips that are unmatched in the industry.
If you are a beginner or an expert, ROW has the Idaho rafting trip for you. Whether you are looking for a multi-day rafting trip with your family, a corporate retreat, or you're just a person looking for adventure, ROW Adventures will deliver the rafting experience of a lifetime. From Class II Rapids to Class IV Rapids, Idaho rafting is the mecca of rafting vacations in North America. You can raft the deepest canyon in North America, watch for black bears and other wildlife, and explore untouched wilderness just like Lewis and Clark.
ROW guides are the best at their craft. They not only offer the best rafting experience, but an interpretation experience so you can engulf yourself in the surroundings and take in a truly unique rafting journey. The ROW Fleet consists of the well-maintained rafts, kayaks, and canoes with your comfort in mind. All gear and guides are provided with our Idaho rafting trips...all we need is an enthusiastic spirit and we'll dress and guide you appropriately.
ROW Adventures offers more Idaho whitewater trips than any other outfitter on earth:
The fly fisher's first choice in guided fly fishing adventures is one of the gems of the Idaho Panhandle - the St. Joe and Coeur d'Alene Rivers! Fly fishing for native west-slope cutthroat trout in magnificent surroundings and crystal clear water awaits you today with ROW!
ROW works closely with the River Dance Lodge to offer great lodging and adventure trips for everyone.
Location information:
---
General Location: Varies
Directions: Will be given at time of booking.
We do not have any current pre-built packages for ROW Adventures .
· Call us at
800-844-3246
for the lowest guaranteed rates
· We can
customize a package for you!
Let us know what you would like and we'll create it for you.
*pp=Per person. Rates do not include taxes or any applicable resort fees, cleaning fees or deposits unless mentioned. Subject to availability and subject to change without notice. Valid for new reservations only. Your rate may vary depending on the number of people travelling. Most packages can be customized. Specific Unit valid dates sometimes vary from the listed date. Starting prices are based on overall promotion low price and may not be available in your city.
You'll never pay more using our FREE service for the state of Idaho! Plus enjoy great customer service, rates and packages. Thanks for shopping locally!
Bruneau & Jarbridge Rivers

| |
Photos
|
Reviews
The Bruneau River in southern Idaho is among the most spectacular desert rivers in the United States. Whitewater rafting connoisseurs looking for a remote wilderness river trip will find few that compare with the Bruneau River. From mellow Class II whitewater, to raging Class V, each section on the Bruneau River is unique. ROW's 40-mile Bruneau trip is an incredible Idaho adventure with exciting whitewater, desert canyon scenery, and diverse wildlife and plant life. For a longer and more exciting adventure, you can combine a Bruneau raft trip with the narrow and fast-moving whitewater of the Jarbidge River. Both the Bruneau and Jarbidge are early season rivers with limited departures. Fast-flowing and narrow, with action-packed rapids requiring quick responses, we run small rafts on this stunning desert canyon river. The Bruneau River: 5 days. 40 miles. This has plenty of whitewater action, with exciting class III-IV rapids, but, unlike the Middle Owyhee (below), are all runnable. The grand finale, "Five Mile Rapids" will impress you. This is one of the steepest and most enchanting canyon landscapes in America with red-colored sheer walls tower above the verdant vegetation of grasses and ancient juniper trees. There's a wealth of archaeological sites, including a hike to Cave Creek where we visit caves inhabited not long ago by Native Americans. The river requires we use small rafts and trips are limited to ten guests and five guides. Our BLM permit allows only 3 trips per season. Jarbidge/Bruneau Combination: 7 days. 69 miles. The Jarbidge adds 29 miles to the Bruneau trip for a total of 69 miles. These 29 miles are fast and narrow with overhanging junipers and tight, towering canyon walls. We may have to line our rafts through one rapid and have a full portage around Jarbidge Falls, which requires an hour or two of hard work. This trip is expeditionary in nature and best suited for those with prior rafting experience. Paddling your own inflatable kayak (duckie) is a possibility on this section.
---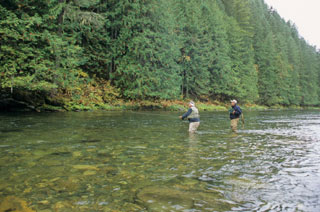 Guided Fly Fishing

| | |
Reviews
The St. Joe: The scenic St. Joe River carves its niche out of a magnificent heavily forested canyon that often ascends right from the water's edge. From Memorial Day weekend well into October, the seemingly endless insect hatches make the cutts of the Joe the fly fishermans perfect quarry. Whether the anglers prefer walk and wade fishing or the comfort and grace of a well-appointed river craft, the professional guides of ROW are fully prepared to introduce them to the hidden treasures of the St. Joe. Come see why the St. Joe is the fly fishers nirvana!

The Coeur d'Alene: The tranquil serenity of the Coeur d'Alene River drift trips is what fly fisherman dream of. Spectacular scenery, abundant insect hatches, crystal clear water and magnificently beautiful west-slope cutts. All this is yours from the comfort of a masterfully-piloted river craft with the professional guides of ROW. Coeur d'Alene River float trips bestow the fly angler rewards that last a lifetime. Full and half day trips are available on the Coeur d'Alene River.

Middle Fork Salmon: Protected within the 2.1 million-acre Frank Church River of No Return Wilderness, the Middle Fork's gin-clear waters are replete with cutthroat averaging 12-15 inches, with some reaching 20 inches or more in length. In June of 1805 as the Lewis and Clark Expedition were portaging the Great Falls of the Missouri River in central Montana, Meriwether Lewis noted in his journal that:

Snake River in Hells Canyon: Few rivers offer such a diversity of species! Fishing on the Snake River below Hells Canyon Dam offers feisty smallmouth bass, jumping rainbow trout, channel catfish and the behemoth sturgeon. This fishery allows us to keep as many trout and bass as we wish to eat while releasing the others. On the Snake River in Hells Canyon, the trout average 9 to16 inches while bass typically weigh one to two pounds. Channel cats can weigh up to six pounds. Truly one of the most astounding species is the white sturgeon and there's a good population of these prehistoric fish.While fish over 12-feet still exist, the majority of those caught are between five and eight feet. Heavy tackle and barbless hooks are used and we land them as efficiently as possible.
---
Main Salmon River

| |
Photos
|
Reviews
The Salmon River in Idaho is the longest free-flowing river in the contiguous United States. Spend three days floating near Riggins, Idaho, where the Salmon River meanders through the largest wilderness area in the lower 48. This trip is a great introduction to white water rafting and the scenery, excitement and fun of the Salmon River will quickly turn you into a whitewater junkie. The Salmon River near Riggins is one of three trips on the Salmon River operated by ROW Adventures. The Salmon River flows unimpeded through 425 miles of Central Idaho before its waters join the Snake River and journey to the Pacific Ocean. The free-flowing Salmon has incredible white sand beaches, diverse scenery, no mosquitoes, warm water and exciting rapids. This trip on the scenic Salmon is an excellent introduction to whitewater rafting and to Idaho's diverse wilderness and wild rivers. Our Salmon River rafting trips run all summer from late June to late August, when water levels are ideal for this section of the river. Beginners and veteran rafters alike will find plenty of excitement on this stretch of whitewater. Salmon River rafting vacations near Riggins float roughly 56-74 miles, starting about 25 miles east of the town of Riggins, known as the "Whitewater Capital of the Universe." Highlights of this trip on the Salmon include a hike to a mountain hot spring, plenty of rambunctious whitewater rapids and stunning mountain scenery. Lake Creek, Ruby, Time Zone, Lightning Creek and Trap Creek are just a few of the exciting Class II-IV rapids you'll encounter. These rapids are known as "pool and drop" and are perfect for paddle rafts and inflatable kayaks, or "Daring Duckies" as we call them. Between rapids you float along in the warm water, snapping a few pictures or just soaking up the sun and scenery. Weather on the Salmon River is usually hot and sunny (80-90 degrees during the day) with water temperatures in the low to mid 60's. We camp on beautiful and expansive white sand beaches that are perfect for Frisbee, volleyball and sunbathing. Fishing and hiking are also popular campsite pursuits. Evening temperatures are mild (60-70 degrees), the sky is free from light pollution and there are no mosquitoes. This Salmon River offers idyllic camping. While you travel on the river, the guides talk about the history of the Salmon River - the native peoples that lived along its banks, the white men that settled here and the first settlers to brave the Salmon's whitewater. There are also a few old mining sites that we'll stop to investigate. These were worked by Chinese miners from about 1850 to 1890. You'll learn about their culture and marvel at the rock houses that remain. These are some of the best-preserved examples of Chinese rock dwellings in the world outside of China. We hope that through hikes, stories and interpretation you'll gain an appreciation of the wild and historic treasures that dot the shores of Idaho's Salmon River.
---
Middle Fork of the Clearwater

| |
Photos
|
Reviews
Formed by the confluence of the raging Lochsa and scenic Selway rivers, central Idaho's Middle Fork of the Clearwater is a gentle rafting day trip. Several Class II rapids add excitement to this beautiful float down the Clearwater, one of the original eight rivers designated Wild and Scenic by Congress in 1968. Day trips on the Middle Fork of the Clearwater are a great introduction to rafting and perfect for family trips. In 1968 Congress passed the Wild and Scenic Rivers Act protecting eight wild rivers recognized for their outstanding wilderness, resource, and/or water quality values. The Clearwater River, along with its major tributaries, the Selway and Lochsa were among the first eight protected rivers. ROW Adventures is proud to offer whitewater rafting trips on all three of these national treasures. One day rafting trips on the mellow Middle Fork of the Clearwater are offered from its beginning to the town of Kooskia, Idaho, some 22 miles downstream. Primarily a scenic float trip, the Clearwater can be floated in shorter stretches of 8-10 miles. With a couple of Class II rapids, the river is a perfect introduction to rafting and a great option for a family trip. You can choose to ride in a raft or to paddle your own sit-on-top kayak, or "Daring Duckie." No previous river rafting experience is required for this gentle float trip. The option to stay at the nearby River Dance Lodge makes the Middle Fork of the Clearwater River a wonderful lodge-based family rafting adventure. The Clearwater River is surrounded by the 1.3 million acre Selway-Bitterroot Wilderness, portions of which are a temperate rainforest. Some of the plants found here are also found on Washington State's Olympic Peninsula. A rafting day trip floats you through thick cedar, fir and larch forest, and the riverbanks are overgrown with emerald ferns, spongy mosses, huckleberries and mountain spray. As you paddle, you're likely to see osprey, bald eagles, waterfowl and maybe even a playful river otter. You'll also learn from our knowledgeable guides about the Nez Perce Tribe, the original inhabitants of this land. Traditionally these were rich fishing waters, and today you can still see salmon jumping at Selway falls early in the summer. Your rafting or kayaking adventure begins and ends at the River Dance Lodge, Idaho's Outdoor Adventure Resort, situated on the banks of the Clearwater River. Surrounded by spectacular Rocky Mountain scenery and forests of leafy cedar and gargantuan white pine, River Dance Lodge is the perfect all-inclusive vacation resort.
---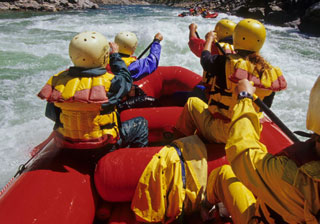 Middle Fork of the Salmon

| | |
Reviews
Among river runners, the Middle Fork is a legend. 105 miles of pure, clear, free-flowing river drop 3000 feet through the remote and and spectacular River of No Return Wilderness. The trip starts nearly 6000 feet above sea level and soon drops in elevation into pine-studded mountains and deep pools, home to native cutthroat and rainbow trout. Bighorn sheep, mule deer and river otters reside here. Indian rock paintings and pioneer homesteads, creeks, falls and so much more fill each day on this magnificent river by the time you reach 3000 feet.
Because the Middle Fork has no dams the water is highest when early-summer warmth melts the snow from the high peaks. Therefore the month of June is the time to come if you have previous rafting experience and are seeking high water thrills. July brings somewhat lower flows as the bulk of the snowmelt has already run-off and novice rafters are welcomed. The river gradually gets lower as the summer passes, bringing incredible clarity and magic to the crystal waters. Latter August and September are wonderful times to be on the river as few other people are around, the colors of the hills become more radiant, and fishing is at its best.
---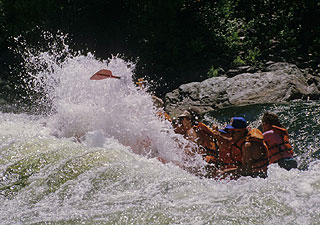 Snake River Thru Hells Canyon

| | |
Reviews
The deepest river gorge in North America, straddling the borders of Idaho and Oregon, Hells Canyon is a place of grandeur. This raft trip exposes you to the geological wonders as well as the excitement of high-crested waves and paddle-swallowing holes on the Snake River. A lot of folks come to the Snake because of the bountiful fishing for trout, small mouth bass and North America's largest freshwater fish, the white sturgeon. Still others come to learn more about the pioneers who homesteaded there and and to see the well-preserved Indian rock art. Most everyone enjoys swimming in the near 70 degree water The first 34 miles of the river (Hells Canyon Dam to Pittsburg Landing) have numerous rapids, including the two biggest - Wild Sheep and Granite Creek. In terms of sheer water volume and excitement, these two rapids compare to the big rapids on the Colorado in the Grand Canyon. On either side of the river are impressive mountain ranges that are both within designated wilderness areas. On the Idaho side are the Seven Devils; on the Oregon side, the Wallowas. At some points on the trip, you can look up to points that are 7900 feet in elevation, over a mile above the river.
---
ROW Adventures related products you may be interested in:

Amenities
:
No amenities are listed. Please call.

Photos
:
Lunch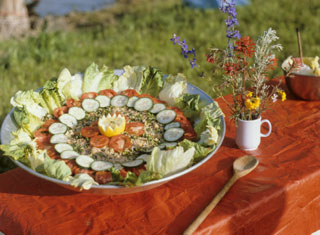 Lunch Spread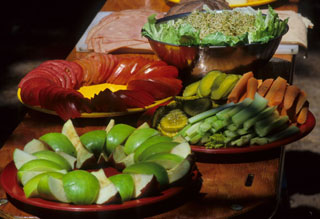 Learning to be a Guide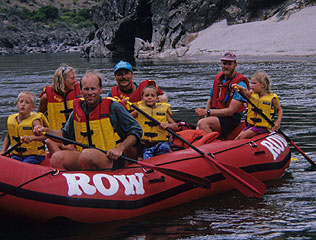 Floating the Salmon River Canyon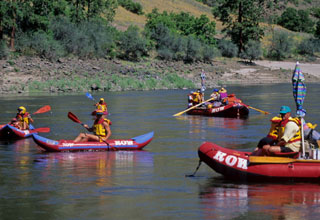 Braving the Rapids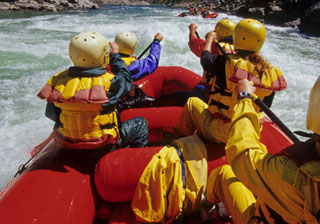 Camping on the Middle Fork
Hells Canyon Whitewater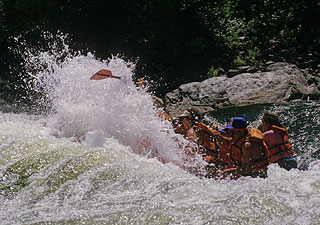 Home Sweet Home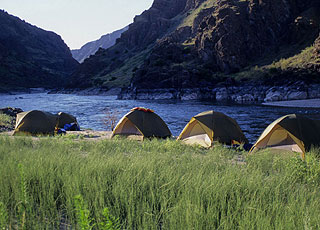 The 710 Spit!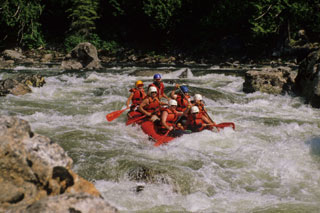 A Happy Crew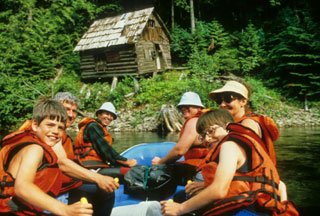 Tumbledown Falls Rapid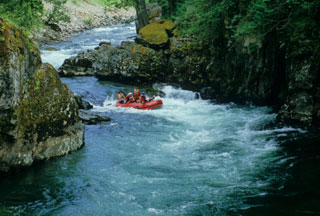 Clark Fork River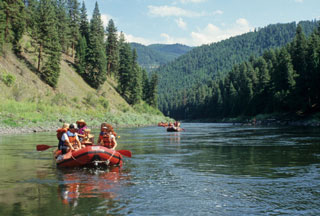 Tumbleweed Rapid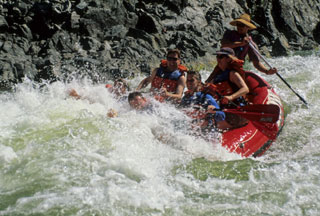 Digging In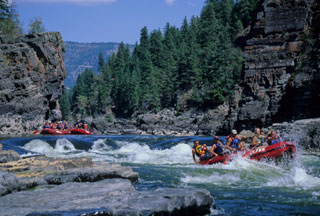 Pristine Waters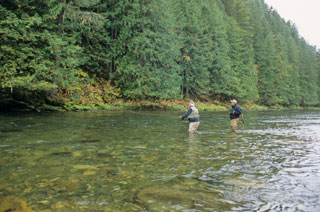 Whitewater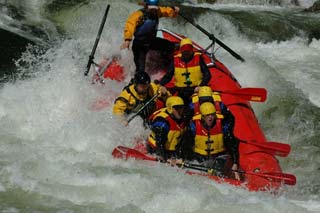 Whitewater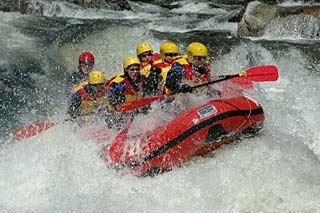 Whitewater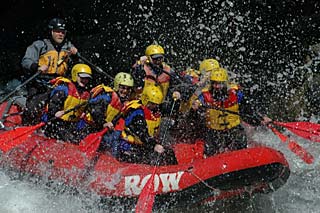 Salmon RIver Canyons Whitewater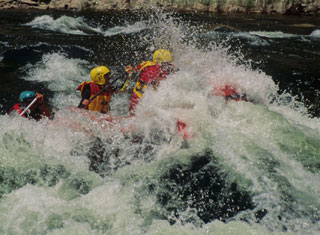 ROW Adventures Reviews by InIdaho.com verified guests
Sorry, our guests have not reviewed this company yet
.
Cancellation Policy**:(May vary with special rates, packages & online bookings) 50% deposit required upon reservation. Nonrefundable within 45 days of reservation date, except Middle Fork trips which require full payment 60 days prior. All deposits are nonrefundable, however up until the final payment due date, you may change your reservation for another trip (if space is available) during the same year with payment of a $10 transfer fee. After the final due date, transfers are subject to the cancellation charges.

Check in location: Look under each specific trip for meeting times and locations.
For local advice and reservations call our free service at

1-800-844-3246