Vacation rentals in the Coeur d Alene Idaho area
We'll help make your stay in Coeur d Alene a home away from home with the perfect cabin or vacation home.
Following is a list of vacation cabin and home rentals in the Coeur d Alene, Idaho area. Based on your criteria, we've searched rental cabins, homes and cottages and found 1 places to stay that match your request.

Popular Coeur d Alene vacation home locations are
On Lake Coeur d Alene
,
Lake Coeur d Alene Access
,
Downtown Area
,
Interstate 90 Corridor
,
Near Wild Waters Waterslide Park
,
Near Silver Lk Mall
,
Near North Idaho College
.
View all Coeur_d_Alene locations
and welcome to the neighborhood!
We found 1 places to stay that matched your criteria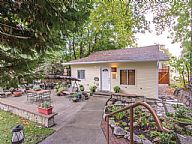 Cottage Escape To Downtown
(Coeur d Alene, Idaho area)
Vacation Rental/Cabin/Home
-
This beautiful house right in downtown Coeur d'Alene has everything you need to fully enjoy your vacation! With a full kitchen, projection TV screen, a nice pet-friendly yard, a private hot tub, and a convenient location close to shops, restaurants, and the lake, you won't have to go far to find a huge variety of options to keep you entertained. Located right in downtow...
Learn More/Select
Page 1 of 1
Thanks for making your reservations with our local, Idaho company!