Your local Idaho experts since 1998!
Idaho ski, snowboard, and snow reports
Last Snow Report Update: Sat, 22 Jan 2022 07:30:51 MST
Free QuoteService™
from InIdaho.com

Custom
ski packages.
What are you looking for?
Perfect trip planning every time!
(it's efficient, cool and free)
Historical Data
View Idaho snowfall reports
back to the 2002/03 season.
A perfect trip planning tool for
our snow enthusiasts!
See past snow reports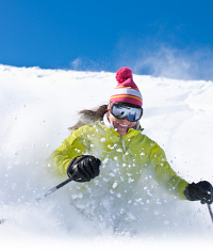 Slope side Accommodations In Idaho
Ski in and ski out properties at your favorite Idaho Resorts! Choose Sun Valley, Tamarack, Grand Targhee, Schweitzer & Kellogg if you want to be on the slopes or have ski lift access.
InIdaho Customer Comments
"Great service! I checked 2 hotel websites which showed no vacancy-InIdaho had a room at each place!"
Teresa, Twin Falls, ID
»
View More Comments
We know the ski deals in Idaho
Calling InIdaho is a great first step towards the perfect winter vacations
When InIdaho.com first started back in the 90's we specialized in Ski and Stay Packages for Idaho. Today, we sell more ski and stay packages for Sun Valley Resort, Brundage Mountain Resort and others than anyone else. Our local, friendly and knowledgeable staff want to make sure you have the best trip at the best value. Almost all ski and snowboard packages can be customized to fit your needs. Thanks for choosing InIdaho.com!