Vacation rentals in the Meridian Idaho area
We'll help make your stay in Meridian a home away from home with the perfect cabin or vacation home.
Following is a list of vacation cabin and home rentals in the Meridian, Idaho area. Based on your criteria, we've searched rental cabins, homes and cottages and found 1 places to stay that match your request.

Popular Meridian vacation home locations are
Near Idaho Center Complex
,
Interstate 84 Corridor
,
Near Roaring Springs and Boondocks Fun Center
,
Near Meridian Speedway
,
Near St. Lukes Meridian Medical Center
,
Around Town
,
Out of Town
.
View all Meridian locations
and welcome to the neighborhood!
We found 1 places to stay that matched your criteria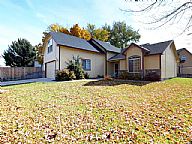 Marys Magic
(Meridian, Idaho area)
Vacation Rental/Cabin/Home
-
Give your family and friends some peace and quiet on your next vacation with this charming Idaho home. Drive to excitement in nearby Boise and experience a nice, low-key neighborhood in your downtime! This home for eight lies in a sleepy suburb in the city of Meridian. The bustling downtown is only a quick drive to the south, with restaurants like El Tenampa and Pauly's...
Learn More/Select
Page 1 of 1
Thanks for making your reservations with our local, Idaho company!