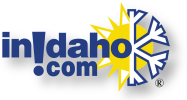 S
orry, this promotion has ended.
We love our Facebook fans! Facebook is a great way for us to keep in touch with our friends. To celebrate our friendship, InIdaho.com will pick one of our fans each month to win a $40 travel certificate through InIdaho.com.
"Like" us on Facebook now!
» Promotion Details
- Each month, InIdaho.com will randomly choose 1 of our Facebook fans to win a $40 travel credit which can be used towards most reservations made through InIdaho.com.
- Each person can win multiple times, but only up to $240 i

n travel credit per year.

- Program may be changed or cancelled at any time.
- You must "like" us on Facebook at time of drawing which will be held around the 1st of each month. Winners will be notified via Facebook.
» How and When to use your prize
- Travel credit can be applied to new reservations only.
- Travel credit i

s valid 1 year from the date of winning.

- To redeem, you must call InIdaho.com at 1-800-844-3246. Please note that in most cases InIdaho will need to pre-pay the lodging or activity company you are reserving. To ensure we have enough time to do this, please make your reservations at least 2 weeks prior to your trip.
» Fine Print
-If you do not wish to be entered i

nto the drawing you may opt out by visiting our "Contact Us" page.

- No cash value for the travel credit.
-Not all products listed on InIdaho.com may be purchased with the travel credit. Please ask your reservationist.
-Prize is non-transferrable
Prize winner is responsible for difference in price for purchases more than the travel credit including taxes.
In most cases, once a reservation is made it is non-refundable when using the travel credit.
Subject to availability.
- Winner must be at least 21 years of age
- Employees and family members are not eligible to win.
- Your odds are based on 1 out of number of people that have liked us on Facebook.
For local advice and reservations call our free service at

1-800-844-3246
374