About McCall River Ranch: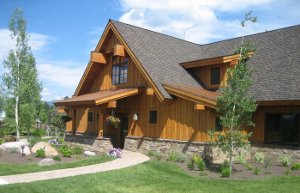 Situated along 2.5 miles of the Payette River, the River Ranch subdivision is home to 5 lakes, 80 acres of conservation area and gorgeous grounds for an outdoor wedding. The location offers a spectacular setting for the bride and groom to celebrate this special event with their family and friends and offers 360 degree views of the surrounding mountains, an excellent location only 1.5 miles to downtown McCall and Payette Lake and only minutes away from where most wedding guests will be staying.

The 5500 s.f. Members' Ranch House is the focal point for the celebration with a gourmet kitchen perfect for the caterer to work from, a beautiful bar area to serve guests from, luxurious restrooms and a beautiful great room in which some guests can relax away from the music and dancing of the reception. There are also two rooms upstairs in this clubhouse, one with an attached bath, where the bride and her entourage can prepare out-of-site of the groom.

The wedding ceremony can be set up on a beautiful lawn area on the shore of a small lake with Jughandle Mountain rising in the distance. From here it's only a few steps to the paved patio area and the wedding reception. A large open tent can be set up on the patio over the decorated tables and dance floor and tent sides can be stored close by in the case of imperfect weather. Dining and dancing under McCall's beautiful summer and fall skies will make for a memorable occasion.

River Ranch is the perfect location for wedding photos as well with many gorgeous settings around the Ranch to choose from.

Also availabe for rent, just a short walk from the Ranch House, is a beautiful 3-bedroom, 3-bath cabin overlooking the small lake. It's the perfect place put special guests, some of the family or even for the bride and groom to slip away to after the cake has been served and the party begins to die down.

River Ranch is the perfect venue for a McCall wedding. The gorgeous setting, spectacular views and location combine to make an unforgetable occassion for all involved.

Locations we serve:
McCall

Business Categories:
Ceremony and Reception Sites, Lodging, Real Estate

Business Hours:
A tour of the River Ranch grounds, Members Ranch House and Members Cabin can be scheduled by calling 208-634-4686.