Lodging and places to stay in Boise, Idaho
Whether you are planning a business trip, shopping trip, visiting relatives or just vacationing in Boise, InIdaho can help. We are local and have negotiated discounted rates you won't see on other travel sites. We know the city and can help you find the perfect airport location, downtown, BODO, near the mall, Boise State University, athletic complex or one of the amusement centers. We look forward to helping you plan the perfect Boise trip. Boise offers a wide assortmant of hotels and motels as well as historic B&B's.

featured lodging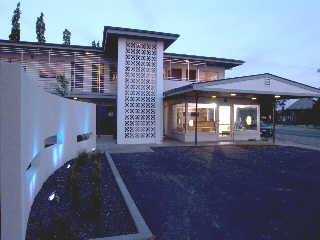 Modern Hotel and Bar
in Boise, Idaho
Choose by location in Boise
travel tips and info for your vacation to Boise
our capital city
Boise (pronounced boy-see) is the capital and the largest city in the State of Idaho. Its population is over 250,000+ and it is the hub of commerce, banking and government for the state of Idaho. The Boise Metropolitan area which includes Meridian, Nampa and Caldwell has a population of almost 600,000.
popular things to do
Nordic, Alpine skiing and snowboarding at Bogus Basin Resort, world famous white-water rafting, hunting, fishing, backpacking and camping. Hiking, biking, and fishing are popular activities in the metro area as well. Boise has thousands of acres of open space around the city. The foothills of the Rockies provide trails for hikers and bikers of all abilities. The Boise River Greenbelt is a great place for biking, rollerblading or a casual stroll to unwind from the business day.
go Boise Broncos!
Boise is home to Boise State University the state's largest university with an enrollment of about 20,000 students. Since 1999 the Boise State Bronco's football team has enjoyed great success. We have hotels close to the stadium so give us a call!
»
view hotels near the stadium
regional companies
Many large regional, national and international companies are headquartered here, including WinCo, Simplot Corporation, Boise Cascade, Albertsons, Micron Technology, Washington Group International and Hewlett-Packard. If you are travelling for business give us a call.
We have negotiated business rates with most Boise hotels and, because we are local to the area, we can help you find a location close to where you will be working in Boise.
Bogus Basin snow report
InIdaho is a ski package specialist. Current and historical snow reports are available for Bogus Basin and other Idaho resorts.
view Bogus Basin's snow report here
average temperatures

thank you for making your reservations with us and supporting a local, Idaho business! 1-800-844-3246