Lodging and places to stay in Grangeville, Idaho
Stay in Grangeville and enjoy the great outdoors. From bed and breakfasts to guest ranches, Grangeville lodging offers access to the Clearwater River, rafting to the north, quick access to Hells Canyon and fishing.

featured lodging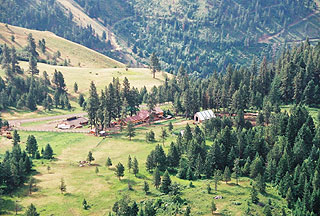 Whitebird Summit Lodge B&B
in Grangeville, Idaho
Choose by location in Grangeville
travel tips and info for your vacation to Grangeville
what to do
In the winter, enjoy snowmobile, cross country skiing and tubing and downhill skiing at Snowhaven Ski Area. In the summer, enjoy fishing on the Clearwater, hiking, golf, mountain biking, and an amazing motorcycle ride along highway 14.
Grangeville top event
Border Day's is Idaho's oldest rodeo. This three day event over the fourth of July holiday is fun for all ages. Events include 3 nights of Rodeo, parades, egg toss, fun run, art exhibits and more.
a mammoth in Idaho?
The bone of a prehistoric mammoth was discovered just outside of Grangeville in 1994. Today, an interpretive structure including a resin mammoth skeleton can be viewed.
thank you for making your reservations with us and supporting a local, Idaho business! 1-800-844-3246